Cosmetic Dentistry
Whitening
When it comes to cosmetic dentistry whitening procedures can restore the smile of people with stained or discolored teeth. Over time teeth become more porous and vulnerable to staining. Many of our patients choose tooth whitening procedures to reverse the effects of aging and staining from foods, beverages and tobacco. The procedure does not harm teeth and the results are often dramatic. In most cases, we recommend whitening prior to other cosmetic and restorative procedures, so the restorations can be matched to your new lighter shade.
At Home Whitening
We create impressions of your teeth to create custom fabricated trays. Two weeks later, you pick up your trays and the whitening materials. You wear the trays for a few hours a day and begin to see results within a week. You continue the treatment for 14 days. Every 3 months or so, you may want to do touch ups to keep your teeth bright. To avoid sensitivity issues, we advise using prescription strength Flouridex toothpaste two weeks prior to whitening and continuing after the treatment.
Zoom® Whitening
In office ZOOM whitening is our most popular cosmetic procedure. The entire whitening procedure is completed in a single two-hour office visit. Patients love seeing the immediate results and leaving with a brighter smile. We also provide take home custom trays and touch-up materials to help you keep your teeth at their whitest.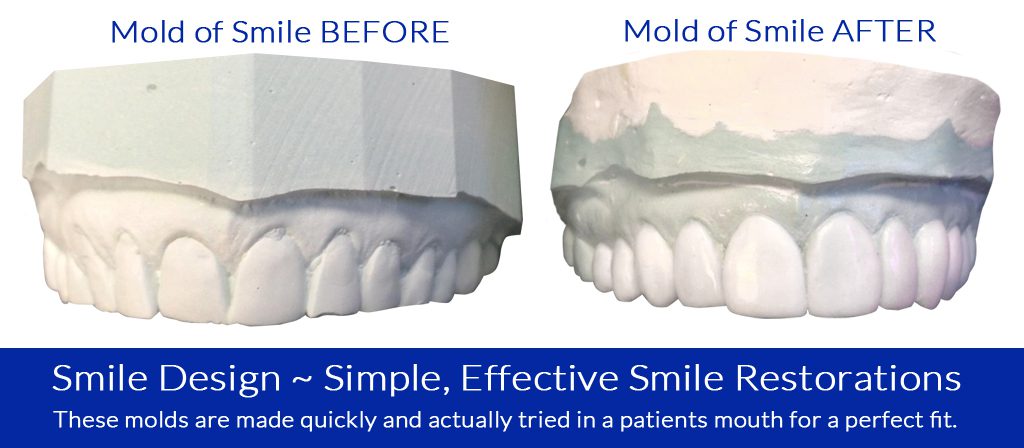 Porcelain Veneers
Porcelain veneers are thin layers of dental porcelain that are custom fitted and bonded to the front surface of your teeth. They have a glass-like translucency that closely mimics tooth enamel and creates a natural looking tooth surface. This material is very durable and stain resistant. Often used in restorative dentistry, porcelain veneers also protect the surface of damaged teeth that are cracked, chipped or worn and may eliminate the need for more extensive dental treatments later.
For cosmetic purposes, porcelain veneers create a bright, beautiful, natural looking smile.
Veneers are routinely used to fix teeth that are discolored due to root canal treatment, stains from tetracycline or other drugs, excessive fluoride, or the presence of composite resin fillings that have discolored the tooth. Veneers can also be used to correct teeth that are misaligned, uneven, irregularly shaped or have gaps between them.
Two visits are required. The first visit includes preparing your teeth to accept the porcelain veneers and taking impressions. Temporary veneers are also put in place. At your second visit, the temporary veneers will be removed and the tooth surface polished. The porcelain veneers will then be permanently bonded to your teeth.